Escape the hassle of a field trip while still providing your students with a stimulating theatrical and educational experience! Beginning February 18, 2019, Surflight To-Go will be taking three different 40-minute musical plays "on the road".
Alexander and the Terrible, Horrible, No Good, Very Bad Day
Grades K thru 6
Alexander is having a bad day. A terrible day. A horrible day. To be quite honest, it's a terrible, horrible, no good, very bad day. But then, everybody has bad days, sometimes. In this delightful adaptation of her popular book, Judith Viorst sets Alexander's rather trying life to music and brings to the stage one of America's feistiest characters. Not only does Alexander wake up with gum in his hair, but his mother forgets to pack him dessert, and his best friend decides he's not his best friend anymore. And if that's not bad enough, Alexander's brothers don't have any cavities but—he does. And just when it can't get any worse, there are lima beans for supper and —yuck!—kissing on TV. It is enough to make anyone want to move to Australia. Alexander's struggles with life's daily dramas will not only entertain but educate young audiences as they identify with Alexander and the obstacles he encounters, encouraging them to share their feelings and to realize that bad days happen—even in Australia. Commissioned and premiered by the John F. Kennedy Center for the Performing Arts.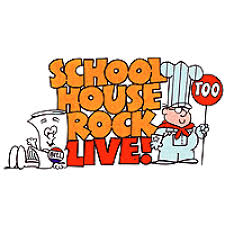 School House Rock Live Too!
Grades K thru 6
If you are looking for an energetic, colorful, fast-paced musical with zany, loveable characters that just happens to be educational, then look no further! The creators of Schoolhouse Rock Live! have returned with more of your favorite instructional tunes in Schoolhouse Rock Live Too!. Like its predecessor, the smart and funny show draws its inspiration from the Emmy Award-winning Saturday-morning cartoon series, popular in the 1970s. Far from outmoded, however Schoolhouse Rock Live Too! is full of modern lyrics, catchy melodies, upbeat dance sections and witty banter. Audiences of all ages will fall in love with Nina, the owner of a fading diner, and her wacky friends. Together, this charismatic crew (made up of a friendly waitress, a "regular" at the diner, a chef and a first-day schoolteacher) tries to brainstorm ways to save their run-down diner. As they reject one idea after the next, they remain encouraged by songs from their favorite show, Schoolhouse Rock. Songs like "The Rockin' Medley," "Electricity" and "Dollars." In the end, they realize that the answer was right in front of them all along... the Conjunction Junction Diner is up and running and open for business!
Grades 3 thru 8
Targeting students in grades 3 through 8, this musical, which empowers its young audience to disarm the bullies in their school, is the story of a group of students at Woodruff High and how they learn to deal with the constant and mean-spirited bullying behavior, including cyber-bullying that has become all too common with many young people. We meet cheerleaders Brianna and Megan and star athletes Buster and Jondo—all school bullies. The boys relentlessly target the intelligent and studious Humphrey Chastain, while the girls go after Flo Elkins for her appearance and her hopes of winning a major singing competition. When Miss Dentler, their teacher, observes Humphrey ranting against the bullying, she calls all the students into her room for a meeting. Miss Dentler asks them to help stop the bullying and shares with them that she was bullied when she was in school. She is called to the office and leaves the students with much to think about. Once the students are left alone to talk to one another and share their personal lives, they start to realize that they aren't so different from one another after all. They also realize that school should be a safe place for everyone and that they have the power to make it so. "There for You" is sung by the entire cast, confirming their commitment to put an end to bullying and to support one another.